Outstanding August Action!
Blog Entry Date: August 6, 2013
So far the month of August has yet to disappoint my anglers aboard The Grand Slam!

Excellent Gulf of Mexico conditions have yielded some great light tackle catches both on the nearshore and offshore fishing grounds with Red Grouper, Permit and Cobia keeping the rods bent and the drags screaming. Not to be outdone though, has been an outstanding Snook bite in the Naples/Marco Island area passes and along the beaches!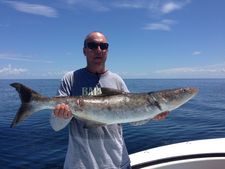 Naples Cobia


Our recent offshore trips have seen limits of Red Grouper come over the rail along with the usual Summertime variety of Mangrove/Lane Snapper, Porgies and Spanish Mackerel.

We have also been spending time prospecting the numerous wrecks and artificial reefs in the 10-20-mile range. Here on the wrecks, I have been keeping my anglers hooked up with a steady Permit and Cobia bite! Both awesome Gamefish these hard-chargers will take the most seasoned angler to task!

Sweet Snook For Steve!


The inshore Snook trips I have been running have required a bit of planning to take advantage of optimum conditions. Early morning or late afternoon falling tides have seen the best action with many slot and oversized fish being caught. If you want to experience some great "catch and release" Naples inshore gamefish action now is the time to book your next Snook outing!

Big Fish On Light Tackle!

Come Fish The Grand Slam!!!!!