Fall Fishing @ It's Finest!
Blog Entry Date: October 24, 2013
The outstanding Summertime Bite has continued into Fall season here in the Naples and Marco Island Region. Good conditions, heaps of bait and a mixed bag of hungry gamefish species have kept the drags screaming and big smiles on my anglers aboard The Grand Slam!

Fall Triple Tail, this one was tricky but we fooled it!


Inshore fishing for Snook and Redfish remains strong. Our focus has been in the Gulf passes and middle bays between Naples and Marco Island. High Tide, Low Tide and Mid-Tide the fish have been "chewing" a variety of baits to include live Pilchards and soft plastic jerk shads in a natural color scheme.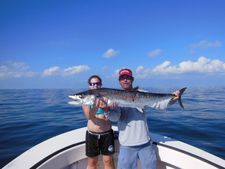 Big Naples Kingfish On Light Tackle!


With most of the local Stone Crab gear in place and soaking out on the nearshore/offshore waters, several Triple Tail have come over the rail in the last few weeks. Traditionally this "first wave" of Triple Tail tend to be large and eager to snap up a well-placed bait. We find these hard-charging and outstanding eating fish swimming just below crab trap buoys and out free-swimming in the open waters of the Gulf of Mexico.

Not to be overlooked this time of year are the plethora of productive wrecks and reefs here in the Naples and Marco Island region. In a transition period now, which includes still tangling with several Summertime species as well as having some Fall species showing up. This time of year, expect the unexpected plying our offshore waters!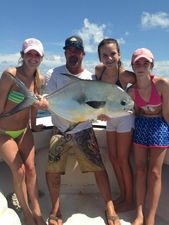 Naples Permit, Good Fun!


Along with a strong Grouper and Snapper bite we are still hooking and landing a few Permit and are now in the beginning stages of our Kingfish or King Mackerel run. The "Kings" will migrate through the region until late December and return on their push northward during the months of March, April and May. Do not wait till its too late to book your next Kingfish trip!!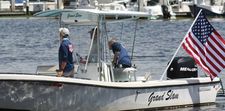 Wounded Warrior Tournament, heading to the scales!


Earlier in the month I had the pleasure of guiding two enlisted Air Force air traffic controllers in a Wounded Warrior Fishing Event here in Naples. It was truly a great experience guiding these young soldiers to a memorable day of catching Snook, Redfish, Snapper and Jack Crevalle. Already looking forward to next year's event!

COME FISH THE GRAND SLAM!

Captain Will Geraghty