Big Fish On Light Tackle Naples, FL
Blog Entry Date: July 11, 2013
Greeting Anglers!

Wow, what a Summer it has been so far here on the Gulf Coast! Despite the early season tropical weather and what seems like weeks of relentless winds, the inshore/nearshore and offshore bite has truly been outstanding!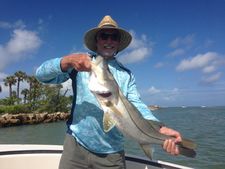 Gordon Pass Naples Snook


Big schools of Snook have piled into the Naples and Marco Island area passes in solid numbers providing my anglers with heaps of trophy-sized opportunities. We have been "cherry-picking" the best tides and times of the fishing day to keep the rods bent and the drags screaming. I have been favoring the top-half of the incoming tide as of late. The Gulf's turbid waters coupled with pitching larger live Threadfin Herring has proved to be a deadly combination.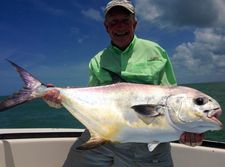 44-Pound Naples Permit


The nearshore/offshore wrecks have been the scene for some incredible Permit action for us aboard The Grand Slam. A stealth approach in conjunction with a well-presented "live crab" offeringhas kept us hooked up. Epic, best describes soome of our Naples Permit catches with fish up to a whopping 44-pounds being caught and released to thrill again!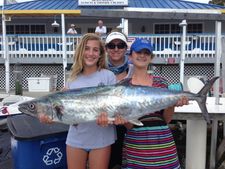 Summertime Kingfish!


Consistent with the last several Summertime seasons,the Red Grouper fishing has been nothing short of solid. While there is surely good days and average, we have been recording Grouper limits on the six and eight hour trips with consistent regularity. The best Red Grouper baits have been whole squid and live Pinfish.
While prospecting for Red Grouper we have been free lining or floating a few larger live baits out the back of the boat. Here in the top-half of the water column, there has been plenty of hard charging Blactip Sharks and "smoker" Kingfish eager to crash a bait! These toothy predators always provide us with spectacular bites and blistering runs!

Hook Up, Hold On and Have Fun Anglers!

COME FISH THE GRAND SLAM!

Captain Will Geraghty