Excellent May Offshore Bite Here In Naples Florida
Blog Entry Date: May 21, 2013
An excellent Offshore May bite continues here in the Naples and Marco Island region of Southwest Florida!

Aboard "The Grand Slam", we have been experiencing outstanding action out on the "half day" fishing grounds. Employing a variety of live and dead baits in conjunction with silver/gold metal jigs my anglers have been recording impressive catches of Red Grouper, Mangrove/Lane Snapper and a host of other exciting Gulf of Mexico reef fish species.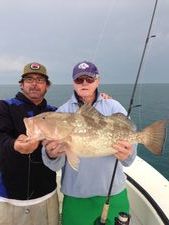 Light Tackle Red Grouper Aboard The Grand Slam



Fishing with 12-20-pound class tackle, limits are very attainable for those willing to put in the work. We fish hard aboard "The Grand Slam" stopping and shopping over vast areas of hard bottom and ledges with a typical half-day outing having us prospecting in the 10-14 mile range. While we fish hard, we never lose sight of why we are out on the Gulf of Mexico....to have FUN!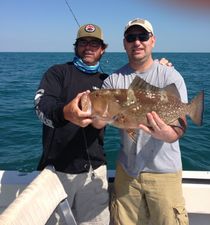 Naples Red Grouper Aboard The Grand Slam!



In addition to the great bottom fishing, we have been tangling with solid numbers of Sharks and King Mackerel each and every trip. I have been targeting these "toothy" predators with free lined Jumbo Shrimp, Threadfin Herring and palmed-sized Blue Runners fished under a float. Hooked up to one of these "speedsters" , anglers aboard The Grand Slam will be treated to a drag screaming, rod bending battle!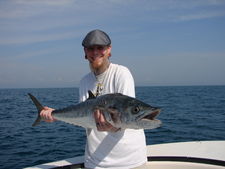 Jeron With A Stout Kingfish Caught On 12# Spinning Gear!



Now is the time for you and your group to get in on this Naples and Marco Island rapid-fire light tackle action!

COME FISH THE GRAND SLAM!!!

Captain Will Geraghty