Fall Fsihing-What To Expect.
Blog Entry Date: October 5, 2016
Here in Southwest Florida, early Fall fishing has been great both shallow and deep. Still catching warm water species such as snook, red grouper, shark, barracuda and tarpon-new species are finding their way into the landing net with each passing day.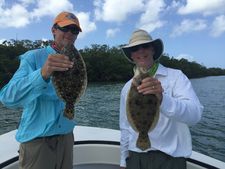 Naples Bay Flounder Catch. Double Hook Up!


My anglers have been enjoying outstanding light tackle snook and redfish action casting live bait,lures, flies and jigs. Plenty of hook ups on each trip, the redfish bite will only become more profound as the waters cool.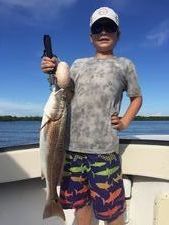 Light Tackle Redfish-10-Pound Test.


Great on the grill, in the oven or on the end of your line, pompano have been cruising our waters in good numbers all summer long. I expect a busy fall run of the tastiest member of the jack family to develop over the next several weeks.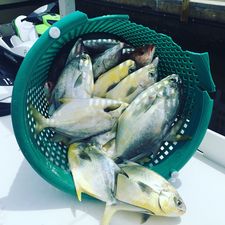 Pompano Catch. Truly Now A Year Round Target Species


Out on the Gulf grounds, limits of red grouper and lane snapper have been routine on our 3/4 and full-day excursions. Half-day trips remain very productive. However, venturing out to water depths in the 50 to 60 foot range are paying big dividends.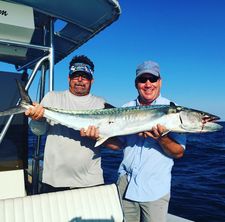 Smoker King, Fall Is A Great Time To Catch Them!


Remaining offshore, fall-like characteristics are more profound than in the shallows. A light but pleasant Northeasterly wind component, massive shoals of baitfish and opportunities of hooking up with king mackerel, Spanish mackerel and bonito certainly add to the early fall catching excitement aboard The Grand Slam.

Hook Up, Hold On and Have Fun!

Captain Will