Offshore Fishing in the Gulf of Mexico
Light tackle sport fishing aboard The Grand Slam with your guide, Captain Will Geraghty, offers incredible excitement, diverse catches and exceptional adventure - Naples and surrounding areas in the Gulf of Mexico are truly a special place to fish!
Fishing The Beaches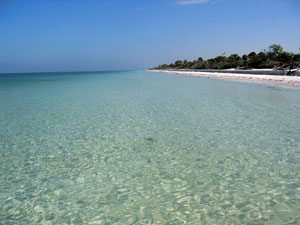 From tackle busting springtime Tarpon, drag screaming cool water King Mackerel to summer surfside Snook, the Naples and Marco Island beaches provide an ever-changing menu of Light Tackle Challenges.
Complete with a postcard worthy backdrop of soft white sand and coastal dune landscape, the beach fishery here in southwest Florida will test skills and wills whether we choose to slow troll or pitch a variety of frisky live baits, cast artificial lures or fool them with the fly.
Early in the fishing day, is typically when the "beach bite" is firing on all cylinders however; the late afternoon and sunset action can be equally as active! Departure times for beach charters are best structured around optimum tides and climate/surf conditions.
Great for the novice and experienced angler alike, don't miss out on this unique and exciting Naples Florida Angling Adventure!
Prospecting The Wrecks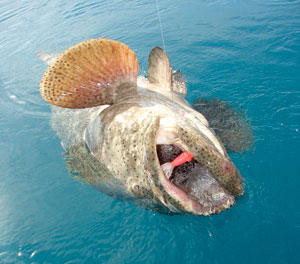 The region's nearshore and offshore waters host dozens of productive manmade wrecks and artificial reefs found in water depths as shallow as 20 feet deep. Comprised of antiquated rock barges, retired shrimping vessels, mined limestone boulders and clean construction debris, the "wrecks" consistently yield an abundant variety of species through out the fishing year.
Targeting the productive Gulf of Mexico wrecks employing many potent live bait and heavy chumming tactics will trigger a red-hot bite resulting in non-stop light tackle action! Here on the "wrecks" or locally referred to as "fish havens" anglers can expect to tangle with many hard charging gamefish such as Cobia, Snapper, Gag Grouper, Goliath Grouper, Mackerels, Barracuda, Permit (also known as silver bullet fish) and a plethora of Sharks.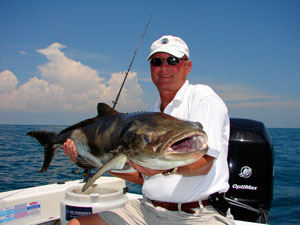 Fly rod aficionados will also experience a "pelagic bonanza" on the "wrecks" through out the region as well. A specialty aboard The Grand Slam, seasonal runs of Spanish and King Mackerel, Bonito and Cobia provide epic fish catching sessions wielding the "long rod" both early and late in the fishing day!
If experiencing high-energy Light Tackle Action while perhaps harvesting a quality catch for dinner are your goals, then prospecting the Naples and Marco Island wrecks and artificial reefs will be the right choice to focus your angling efforts!
Plying The Natural Patch Reefs and Ledges
Loaded with plenty of action and teeming with piscatorial diversity, an offshore excursion out to the natural reefs and hard bottom ledges of the Gulf is a great choice for those searching for a memorable offshore charter fishing experience.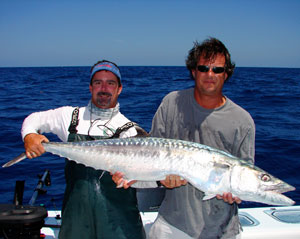 Here on the reefs, the tactic of heavy chumming is also commonly employed drawing fish away from rocky limestone outcroppings, sea fan gardens and vibrant soft coral formations resulting in an aggressive feeding frenzy on the surface directly behind the boat as well as through out the entire water column.
Chummed up and chewing, species such as Mangrove and Lane Snapper, Gag and Red Grouper, Mackerels, Cobia, coastal Sharks and toothy Barracuda can be targeted employing a combination of live bait, fresh dead bait and metal jigs tactics.
Weary Arms And A Robust Catch In The Fish Box; It Is Truly Hard To Beat A Great Day Of Fishing Out On The Reefs!
Book Your Offshore Fishing Trip!
Get in touch with Capt. Will Geraghty by calling 239-571-2878. Alternatively, email captwill@naplessportfishing.com or use our contact form. Our offshore trips depart from the Port-O-Call Marina near Old Naples - 550 Port O Call Way, 34102.
Want to Try Inshore Fishing?
Do you prefer fishing inshore in the backcountry just a short ride away from Naples? Learn more about our inshore fishing trips!